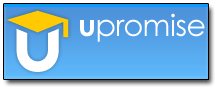 The list of eCoupons for August has been released. For those of you who are unfamiliar with UPromise, read the tutorial
here.
But UPromise in a nutshell - it's a site that was originally designed to help parents save money to send their children to college but now is available to anyone just to save money. They offer online eCoupons to load onto your store cards and when the coupon is used, instead of coming off your total at the register, it is credited to your UPromise account where the savings add up and you can withdrawal the money! You can also link your debit/credit cards and get cash back at participating restaurants and stores. Online purchases made through the UPromise site also reward cash back. You can sign up
here.
The best part, you CAN use paper coupons at the store too!
So when you see a Upromise and a manufacturer coupon cited in the coupon matchups, it means that both coupon values are being deducted from the price of the item. If the UPromise coupon is worth 40 cents, yes, you'll have to pay (some of) that at the register, depending on how much the paper coupon takes off, but the 40 cents is credited to your account. Stacking paper and Upromise coupons is a great way to get overage.
I have only been doing it for a couple of months and am already up to $9 without even trying, and the account hasn't evne been credited yet for my cashback from dining out!
Keep reading for the coupon list and more info on eCoupons.
The Coupons:
$2 off Aleve product, 20 ct. +
$1 off Bayer Aspirin product
.50/1 Bounty napkins
.50/1 Bounty paper towels, 6 ct. +
$1 off Charmin Sensitive bath tissue
$1 off Charmin Ultra Soft or Ultra Strong Mega roll bath tissue
.35/1 Diamond Crystal Kosher salt
.35/1 Diamond Crystal Salt Sense
.35/1 Diamond Crystal Sea salt
.50/1 Diamond Crystal Water Softener salt
.50/1 Elmer's Project Popperz
.75/1 Elmer's School Glue, Glue-All or Glue Sticks
.50/1 Krazy Glue product
$1 off L'oreal Studio Line Styling product
.75/1 L'oreal Vive Pro shampoo or conditioner
1% off Lucky Leaf Apple juice
1% off Lucky Leaf Pie filling
1% off Musselman's Apple butter
1% off Musselman's Apple juice
1% off Musselman's Apple sauce
.40/1 No Yolks product
$1 off One A Day multivitamin
$2 off Phillip's product
.40/1 Wacky Mac & Cheese dinner
.40/1 Wacky Mac Veggie pasta
Note: eCoupons do not double.
Learn more about other eCoupon options:
SavingStar eCoupons
work similarly to
UPromise
, the coupon value does
not
come off the total at the register, but is deposited in your SavingStar account, which can be withdrawn as cash once you hit $5. SavingStar eCoupons CAN be stacked with paper coupons.
Kroger
eCoupons
come off at the register, but they do not double and can only be used on one item, not multiple like items.